Let's have a look at the impressive historical sites of Tarragona, the UNESCO World Heritage Site and one of the most important cities in Roman Empire!
A day trip to Tarragona from Barcelona
Visiting Tarragona
Alongside with Montserrat, Tarragona is one of the most emblematic day trips from the Spanish artsy capital of Barcelona. It´s a great place to time-travel back to Roman times. The city is famous for its impressive historical sites, a lot like the other Roman capitals in Spain – Merida and Cartagena. However, the biggest advantage of Tarragona is its accessibility. You have numerous travel options to get to Tarragona from Barcelona (100km). Moreover, Tarragona can be also reached from Castellon (180 km), or even Valencia (250km).
How to get from Barcelona to Tarragona
The easiest way to get from Barcelona to Tarragona is to rent a car. Tarragona is located more or less 100 km from Barcelona and 90 km from Barcelona's airport El Prat.
However, you can also find a few convenient bus options from both Barcelona´s airport and Barcelona Nord Bus Station.
If you prefer traveling by train – head to Barcelona Sants Train Station and get a ticket to Tarragona. Note that there are two railway stations in Tarragona – Camp de Tarragona for high-speed train Ave and the railway station of Tarragona for all the other trains. While the railway station of Tarragona is located in the city center, Camp de Tarragona is situated 11 km from the city center. So you´ll need to take a taxi (or bus) to the city center in case you´re traveling with a high-speed Ave. Additionally, Camp de Tarragona station offers bus services to Valls, Reus, Salou, Port-Aventura, and Cambrils. Check the schedules here.
What to see in Tarragona
Founded before the 5th century BC, The Roman town of Tarraco (modern Tarragona) was one of the most important cities in the Roman Empire. With all the ancient walls and defensive towers – exploring the streets of Tarragona feels like time-traveling back to the Roman Times. Especially, if you visit on a day trip from Barcelona to Tarragona ( preferably in the offseason) – you feel yourself like such an explorer compared to the crowded streets of the Gaudi capital.
Also read: The Marvelous Paphos Mosaics in Cyprus
As we were on the road with a little baby – skipping the museums and just enjoying a walk through the old town and its ancient walls seemed like the best plan. Here are the main stops on our Tarragona sightseeing route.
Top places to visit
1. El Balcó del Mediterrani / The Roman Amphitheatre
Once you arrive from Barcelona to Tarragona, almost everyone starts the sightseeing program at the Balcó del Mediterrani viewpoint (we left our car in one of the local parkings nearby). Here, you get the most amazing coastline panorama of Playa del Miracle and stunning views of The Roman Amphitheatre, where Gladiator contests and public executions took place. Built in the II century, it accommodated around 15 000 people.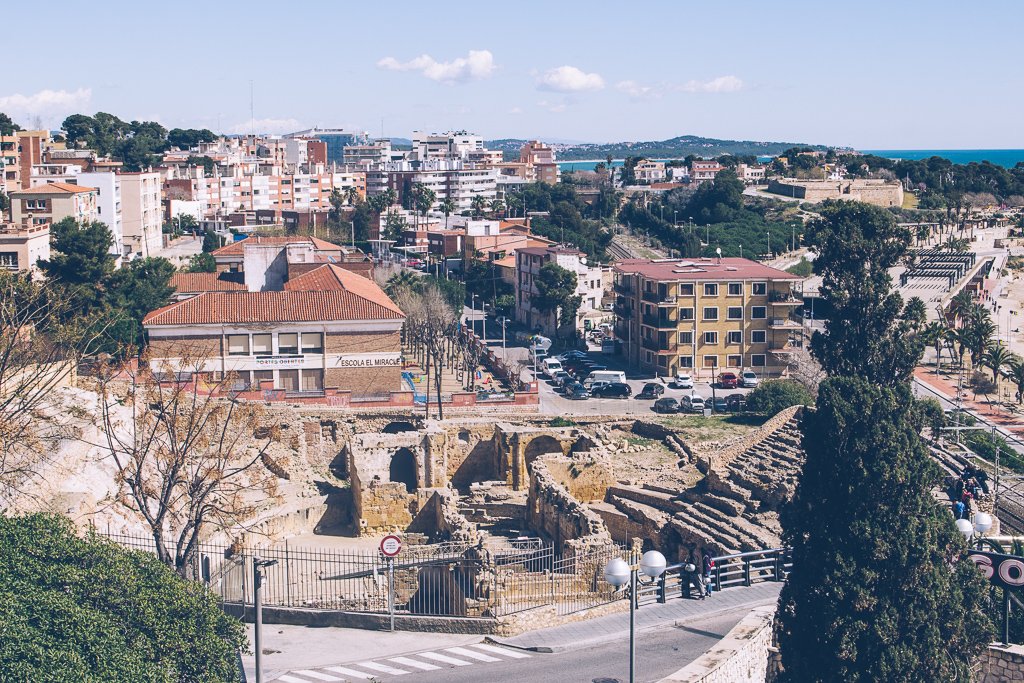 2. The Roman Circus
300m long and 100m wide, The Roman Circus of Tarragona was used for the numerous events, for instance chariot races. It accommodated around 30 000 people.
3. Petrori Tower
Petrori Tower is another place, where you could enjoy some wonderful view of the Mediterranean coast.
4.The Old City
The Old City of Tarragona is a curious combination of ancient walls, stone, arches, fountains that blend together with modern terraces and local shops. After entering the city walls via Plaça del Rei we went all the way towards the Tarragona Cathedral, but it was quite spontaneous. The Old City of Tarragona is way too small to get lost and sometimes I really love not having a route and just "going with a flow".
Also read: 10 secret villages in Spain you´ve never heard of
The ancient squares were full of people having drinks and tapas in the sun. Consider having lunch in one of the local terraces only if you have time – the service was so slow, I felt like that lunch would have transformed into an early dinner! But still, this switch from a busy Barcelona to a more-local Tarragona felt great.
5.The Cathedral of Santa Tecla
Built during the XII-XIV centuries, The Cathedral of Santa Tecla is a mixture of Romanesque and Gothic styles. Previously, on its place, there was a Roman temple dedicated to Emperor Augustus, a Visigoth Cathedral, and even a Moorish mosque. While Tarragona´s cathedral is not on my list of the most beautiful cathedrals in Spain, The Cathedral of Santa Tecla still absolutely deserves a visit.
6.Portal San Antoni
Another impressive monument from the XVIII century you can´t miss in Tarragona is Portal San Antoni.
At the end of our city tour (in front of the Portal San Antoni) there was a playground for kids and another amazing balcony with some great sea views… Romans knew where to built cities, didn't they?!
For more Barcelona day trips check my Pinterest board Barcelona & Catalonia. If you want more Spain travel tips and ideas don´t miss Travel to Spain board.
Pin it:
---
This post is linked up with The Weekly Postcard and Feet Do Travel